Coverage
Updated February 2010:
In our many years of providing broadband access via radio technology (we've been doing it since 2004) - we have come to learn customers are able to get signal from many different towers. If your community is not listed here please - by all means - let us know your address. In many cases we can install a small pole or mast if you are not in one of these listed areas and still get coverage. Our radio link test will tell us this.
Areas in yellow show some type of coverage. A radio link test will tell us more. Areas in white are either too low (depressed) to receive our signal or there is natural terrain blocking our signal from your location. Again, a radio link test will tell us for sure. To request a radio link test, fill our our form on the "I want it!" page.
Blount / Jefferson / South Cullman County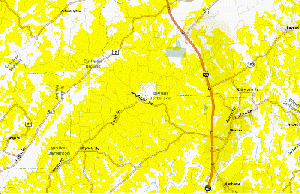 (Click for larger view)
Hayden and Warrior roughly from US 91 (in Cullman County) to Arkadelpha Road, Corner Road, Mayfield Road, Bagley Road, Empire, over to Warrior and Hayden.
Madison / Limestone County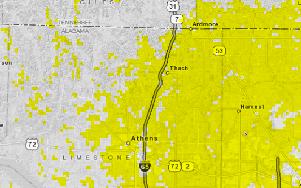 (Click for larger view)
Includes parts of Athens, Toney, Harvest, and Huntsville.
Projected Future Coverage
Target 4th Quarter 2010
(Including sites already planned and Cyber Broadband Coverage)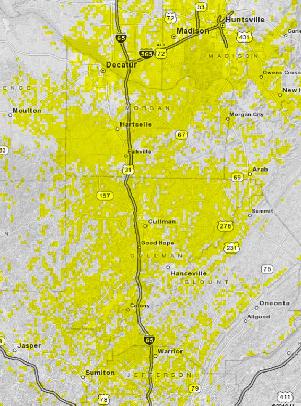 (Click for larger view)
NOTE: We are planning for coverage west of Athens, AL - but do not have transmission sites picked out as of yet.

or